Kueh, the heritage sweet or savoury confection, spans cultures, from Peranakan, Malay to Chinese. Many of us grew with classic kueh flavours that revolve around coconut, gula melaka and mung bean. Recently, a crop of shops and home businesses have injected newfangled flavours into these chewy soft morsels. Here're 4 places where you can get a creative kick out of your kueh.
(Photo: Ah Mah's Legacy Facebook Page)
Forget mung bean and peanuts, the fillings for ang ku kueh, or red tortoise cake, have expanded to a brow-raising range of flavours from roasted chestnut to pistachio tahini. At online store Ah Mah's Legacy, the boundaries of what goes into an ang ku kueh gets stretched. The stand-out flavour is pistachio tahini, which packs nutty and roasted flavours. Besides ang ku kueh, muah chee (mochi) is tossed in a new light. Instead of chopped peanuts, the muah chee, which is hand-pounded, is dusted with a moreish mix of crushed toasted pistachios and Himalayan pink salt. Ah Mah's Legacy is started by Shiny Phua, who is in her early 20s, who picked up the traditional craft of Teochew kueh-making from her late grandmother and is keeping it alive.
(Photo: The Kueh Kakis FB Page)
This recently opened shop in Tanjong Pagar Plaza is one of the few mom-and-pop shops that is dedicated to kueh. The Kueh Kakis sells more than 15 types of kuehs, such as ubi kayu (steamed tapioca cakes with coconut), durian ambon, rainbow lapis and kueh salat. The shop is an authorized distributor of the famed Ji Xiang Ang Ku Kueh at the nearby Everton Park. Rarely seen kueh such as chi kak kueh (steamed mugwort glutinous rice cake) and the childhood favourite wa ko kueh (steamed rice cakes) can also be found at The Kueh Kakis. The kueh selection come with product descriptions, giving kueh enthusiasts a reason to linger longer at the counter. Looking for a food gift? Get the Kueh Box ($10), which comprises 8 pieces of kueh including pulut inti and kueh dadar.
(Photo: Kueh Ho Jiak's FB Page)
Ang ku kueh from online kueh joint Kueh Ho Jiak takes the shape of anything but the traditional tortoise shell. From flowers, hearts, fishes to mooncakes, the brand's signature ang ku kueh comes in a myriad of shapes. Instead of colouring, the various hues of the glutinous rice skin are from four varieties of sweet potatoes: Japanese, Jewel, Garnet and Hannah. On the savoury side, png kueh (rice cakes) come in colourful square blocks and are stuffed with salted egg. Look out for ang ku kueh loaded with hae bee hiam (spicy dried shrimp) that packs a spicy punch.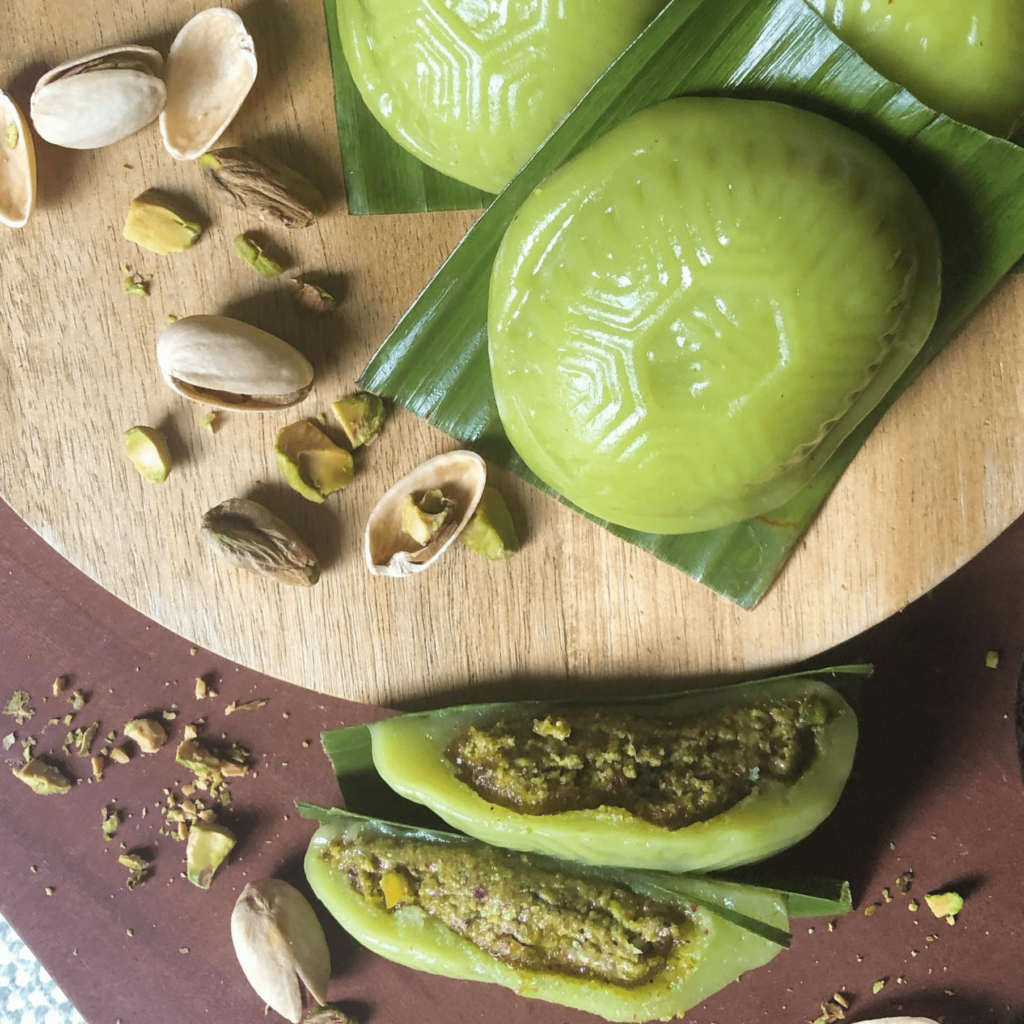 (Photo: The Ang Ku Kueh Hut)
Giving ang ku kueh a Western twist is The Ang Ku Kueh Hut, which has an online store and a physical outlet in Kim Keat Road. Those who cannot decide whether to get a Kinder Bueno and an ang ku kueh can go for the hazelnut-flavoured kueh, which is packed with decadent chocolate paste. Go nuts over the pistachio ang ku kueh, which oozes with the chunky bits of pistachio. For this year's durian season, The Ang Ku Kueh Hut has concocted a version filled with the King of Fruit that enveloped in a glutinous rice skin that is coloured with blue pea flower.