It's that time of year when the mistletoe goes up. While we have no white Christmas in Singapore, the month to get together with your loved ones and have a beautiful meal can still be just as cosy.
In fact, we'd recommend you save yourself from spending the festive season cooking up a storm in the kitchen, and instead, treat yourself to a luxurious meal for the occasion. But the choice of restaurants in Singapore to have your Christmas meal is massive, so where does one start?
One starts with our list. From a gorgeously decked out former chapel, to a shophouse, and even one with a view to remember, we've whittled down a fine selection worth your time.

If it's a cosy time in a stylish space that you're looking for, then Claudine will tick all the right boxes. It's an elegant restaurant in a former British chapel with shiny new interiors that recalls the French countryside. Food here is rustic French as it's derived from chef Julien Royer's personal family recipes but given a modern kiss of life by way of contemporary plating. Look out for the much feted vol au vent, where the flaky puff pastry is stuffed with off cuts like sweetbreads and cockscomb lathered with mushroom jus. Another dish to order is the bouillabaisse, a hearty Provencal stew with John Dory, razor clams, mussels, scallops and carabinero prawn heads.

Those with a penchant for checking out new restaurants can head to Bedrock Origin, the second outpost of the original favourite in Somerset. It's nestled in Oasia Resort Sentosa, specifically in a former dining hall of the colonial structure so it offers high ceilings and plenty of breathing room. The food has a similar focus — there's the usual suspects like meat fired up over apple-wood to a delicious char but also plant-based additions like the impossible beef so it's now possible to invite your non-meat eating friends down for your festive meal.

For those of us who can't travel to Old Blighty for Christmas, The English House beckons for its timeless dishes and pure elegance. The restaurant, overseen by celebrity chef Marco Pierre White exudes old world charm and will whisk you away to a different time and space especially when the Christmas carols come on. Menu-wise, expect a quintessentially English affair of hearty roasts like turkey and lamb while desserts will come by way of a classic Christmas pudding.
Michelin-starred restaurant Cut makes the list as it's, in our opinion, the best restaurant in Marina Bay Sands — a vital inclusion in case you need to do some Christmas shopping before or after your meal. The American steakhouse carries the most premium cuts of meat with quality sides to match your main plate. Go big and order up the Japanese purebred wagyu beef grilled over apple wood and pair it up with the Yukon gold potato purée and creamed spinach. Polish off your meal with the kaya baked alaska — a dessert inspired by local kaya toast that's also a restaurant signature.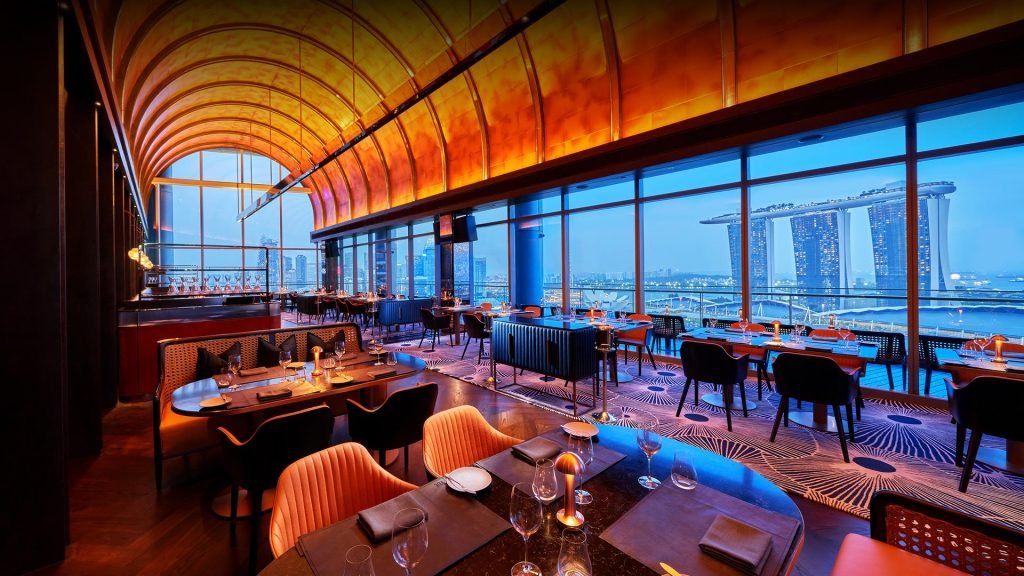 Why settle for a regular restaurant facing four walls when you can tuck in to a decadent meal with sweeping views? This is exactly what Vue, a 19th floor restaurant at OUE Bayfront offers. The massive bay windows will make dining on its grill-forward menu a real treat with views of Marina Bay Sands and its surroundings. Look out for the yearly festive menu that showcases the best of the season.