It's been a tough year for the restaurant scene in Singapore but if there's one trait it has it's this: resilience. Indeed, Singapore's Covid-19 restrictions has not dampened the spirits of some very gutsy restaurateurs, for a few well-known names have chosen to set up new shindigs despite the grim climate.
From a new wine bar with tasty grub to a gorgeous new rustic French restaurant in Dempsey Hill, we cover the restaurants worth checking out just before the year comes to an end.
Fool Wine Bar

Chef Rishi Naleendra is a man on the move. Fresh from opening Sri Lankan eatery Kotuwa and receiving a Michelin star for Cloud Street, he has replaced Cheek Bistro with Fool, a wine bar conceived in conjunction with Group Beverage Manager Vinodhan Veloo. The space takes after the name with a playful vibe and where the food is meant to complement the 200-strong label wine list.
Claudine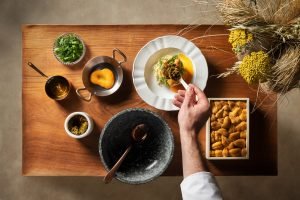 Can't visit France this time of year? Head to Claudine to sample some of its food. The restaurant is opened by chef Julien Royer who named it after his mother and takes over the chapel that once housed The White Rabbit. That in itself means it's the hottest opening this time of year.
The dishes presented at Claudine are treasured family recipes rather than the fussy fine dining style of Odette, but the service is said to be just as polished.
Corduroy Palace

Gibran Baydoun, the brains behind wildly popular pizza joint Lucali BYGB has just opened Corduroy Palace, a space he dubs a wine hall and dining room just off Gemmill Lane. It's a glossy, gilded restaurant where interiors are gold-hued and meant to recall unbridled decadence of the 60's. Here, Executive Chef Ariana Flores holds court over a classic yet playful menu of vintage-era prime rib steaks and chicken cordon bleu. Expect a trolley being wheeled around to top up your dish with mounds of caviar at your desire.
Burnt Ends Bakery

Burnt Ends has operated a bakery above its original Michelin-starred restaurant for nearly two years now so it's timely that the team has moved to a walk-in spot where it can hold its own. The establishment is in Dempsey and offers up a slew of sourdough loaves as well as its wildly popular range of doughnuts. It opens from 8am – 4pm from Thursday to Sunday but most of its baked goods tend to be sold out before lunch.
Alegria

Keong Saik has a new restaurant. This time, it comes in the form of Alegria — the first international outpost for the Manila-based establishment that's widely known for its Latin American dishes with a touch of Asian influence. Think along the lines of pork belly tacos stuffed with sisig, Elote with chicharon and pao de quiejo — Brazilian cassava buns stuffed with cheese.
Quiec

Basque burnt cheesecakes have been all the rage through the pandemic and it seems like the trend is now a staple. Olivia Restaurant & Lounge, the restaurant that arguably kicked off the frenzy, has opened a standalone specialty cafe where its classic and wildly successful burnt cheesecakes are available for purchase in different sizes. There's also a selection of other cheesy bakes but keep an eye out for the American Cheesecake Macaron.